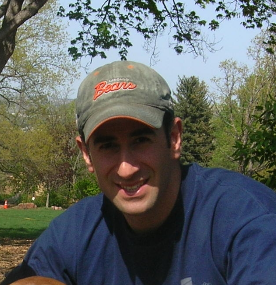 I'm Jason, founder and sole operator of LeavittBrothers.com. I'm an engineer (BS Illinois, MS Texas) turned bar tender/waiter (Joe's Stone Crab, Legal Sea Foods, Nick's Fishmarket and many others) turned trader. I've traded stocks, options and futures, long and short, in several bull and bear markets. I haven't seen everything, but I've seen a lot.
I was born in the Chicago area and have also lived in Texas, NY, Boston and now the Denver area. Until a year ago, I'd tell you my summers were spent hiking, biking, rock climbing, playing baseball and otherwise exploring the Rocky Mountains, and my winters were spent skiing one of the many world class ski resorts here in Colorado. But now all that is done in moderation because my wife and I welcomed twins into the family last year.
A few other things about me and this site...
Do I have a brother?
Yes, but he's not involved with the site. Three weeks before our launch in Sept 2002, he took a position on the floor of the CME in the Eurodollar Options pit and hasn't looked back. He now trades from an office at the CBOT and makes frequent appearances on the message board, but he's not involved in the day to day operations.
Why did I start Leavitt Brothers?
This is going to sound goofy, but it's the site I was looking to join but couldn't find. You see, doing dozens of hours of research every week to find good tradable set ups is absolutely necessary for a beginner, but once you get pretty good and narrow your focus and trading style, cutting back on the all-nighters becomes a top priority. When I reached this point (being profitable but spending way too much time finding trading ideas) I went looking for a couple stock picking services that would offer me good set ups at a reasonable price. I wasn't looking for my hand to be held or a lot of hype - I just wanted a handful of good set ups every week that I'd funnel through my own criteria. But my search turned up empty. I subbed to a few stock picking services and newsletters, but none were very good. With a little entrepreneurial kick I thought: "Hey this might be a business. Certainly there are other traders out there looking for good set ups to play but either don't want to do the research, don't know how or just don't have time, and they'd be willing to play a small monthly fee to have it done for them." And that was the beginning. I created Leavitt Brothers, so I could be a member. It was the site I was looking for but couldn't find.
Things I've learned along the way that influence how I trade and run this site...
The market doesn't care what you are or who you are. If a Harvard educated economist can explain why one of his positions went against him, he still doesn't get his money back.
Entries are less important than most traders think. Said another way, pinching pennies with entries will cost you dollars. Too many times I've hesitated to chase a stock 10 cents, and it cost me a couple bucks.
Often the hard trade is the one I should make while the easy trade is the one that fizzles.
The big money is made riding the big trends. You can definitely make a living shooting for little winners, but you have to nail big moves if you want to get rich (it does you no good to buy a stock at 15, sell it at 18 and then watch it rally to 45).
I don't know which set ups are going to be "good ones" and which are going to fizzle out. Anyone who says differently will probably try and sell you real estate by the Bay. Because of this, trading is somewhat of a numbers game. Get in very good set ups when the trading environment is conducive, play good defense and then let the law of large numbers work out.
There are many ways to trade the market, but there are no bonus points for trading a certain way. Traders need to take inventory of who they are and what they are and then find a trading methodology that jives with their personality. Then don't stray - stick with it. It's better to specialize in one type of trade and execute that trade over and over than be a jack of all trades (no pun intended).
Screen time does not always result in more profits. I've spent hours analyzing every angle of one particular stock and then had the trade go against me; I've also spent 10 seconds deciding to enter a stock that visually had a great pattern and an easily identifiable entry level and made a lot of money. This isn't an excuse to be lazy, but it does tell me over-analyzing isn't wise. On a related note, if you spend two hours dissecting a chart and deciding to play it, it's much harder to cut it loose when it goes against you because so much time is invested, but if little time is invested, it's fairly easy to dump it and move on.
I'm better at entering good set ups and then letting the market do the work for me than actively managing positions. In fact back when I was trading and working a restaurant job at the same time, I made more money when I worked lunch shifts (because I had no choice but to put a stop in place and let the chart play out) than when I sat and starred at my computer screen all day (because I was my own worst enemy; I did dumb things like panic when a stock went slightly against me).
I don't have to know why something happened to make money. In fact most of the time I don't have a clue. This is why I prefer story books and biographies to how-to books.
In many cases, being smart hinders progress because the smart guy tries to figure everything out; he constantly asks why. I've seen way too many smart people fail miserably at trading because they try to put everything in a nice, neat box. Don't fall into the trap.
Keep it simple. Trading isn't a game you're trying to figure out. If all I do is recognize the trend and commit to only trading good set ups in that direction, it's really not that hard to make money.
Think longer term. If I'm trying to make money right now, I'll probably lose, but if I'm trying to make X over the next couple months, I tend to be more relaxed and I trade better. Said another way, a baseball player should not try to go 1-for-3. Instead he should strive for 10-for-30 because it enables him to have a bad game here and there but still accomplish the goal.
Can I have more information about the site?
Yes, go here for the FAQ's (frequently asked questions).
I hope you choose to join me. For a small monthly fee, you won't find better stock picks. One good trade pays your membership fee for the entire year.