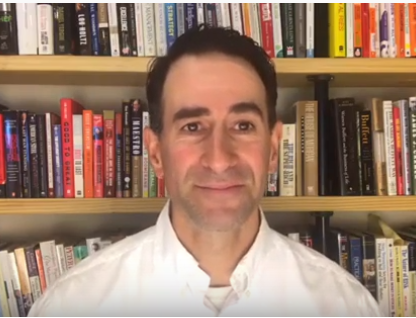 Jason Leavitt is the founder and head of research at LeavittBrothers.com, a boutique research firm that offers market analysis and trading ideas to the financial community. He is also the the creator of Jason Leavitt's Masterclass in Trading.
He's an engineer (BS Illinois, MS Texas) turned bar tender/waiter (Joe's Stone Crab, Legal Sea Foods, Nick's Fishmarket and many others) turned trader. Although he's traded stocks, options and futures, he is mostly a stocks trader.
He was born in the Chicago area and have also lived in Texas, NY, Boston, Costa Rica and now the Denver area. Besides the market, his summers are spent hiking, biking, camping, rock climbing, coaching baseball, shuttling his kids between activities and otherwise exploring the Rocky Mountains, and his winters are spent skiing one of the many world class ski resorts in Colorado.
In his own words, a few other things about Leavitt Brothers...
Do I have a brother?
Yes, but he's not involved with the service. Three weeks before our launch in Sept 2002, he took a position on the floor of the CME in the Eurodollar Options pit and hasn't looked back. He traded in the pits for a couple years and then "from screen." Now he's the managing partner of a Chicago-based hedge fund.
Why did I start Leavitt Brothers?
It was a classic "scratch your own itch" situation. Leavitt Brothers is the site I was looking to join but couldn't find. Dozens of hours of research every week to find good tradable setups is absolutely necessary for a beginner, but once you get pretty good and narrow your focus and trading style, cutting back on the all-nighters becomes a top priority. When I reached this point (being profitable but spending way too much time finding trading ideas) I went looking for a couple stock picking services that would offer me good setups at a reasonable price. I wasn't looking for my hand to be held or a lot of hype - I just wanted a handful of good setups every week that I'd funnel through my own criteria. But my search turned up empty. I subbed to a few stock picking services and newsletters, but none were very good. With a little entrepreneurial kick I thought: "Hey this might be a business. Certainly there are other traders out there looking for good setups to play but either don't want to do the research, don't know how or just don't have time, and they'd be willing to pay a small monthly fee to have it done for them." And that was the beginning. It was the site I was looking for but couldn't find.
I've made dozens of contributions to media sources, via articles written or interviews. Here are a couple podcast appearances I've made.
@ChicagoSean (https://chicagoseantrades.com/)
Podcast (1:04:24)
Chat With Traders (http://chatwithtraders.com/)
Podcast (54:11)
Trading Story (http://tradingstory.com/podcast/)
Podcast (46:31)
Desire To Trade (https://www.desiretotrade.com/)
Podcast (36:38)

Frequently Asked Questions
Leavitt Brothers is a research company that provides market analysis (via daily and weekly reports) and trading ideas to hedge funds, financial advisors and full- and part-time independent traders.
Technical analysis is used to determine the major and minor trends and the staying power of those trends and to determine the market's leading and lagging sectors. With this information, we publish 5 reports every week and narrow the universe of tradable stocks to a short list of top candidates.
Any active or semi-active trader knows it takes hours and hours of time to figure out what's going on and to find good trading candidates. With a Leavitt Brothers subscription, this is done for you.
Leavitt Brothers is not an investment advisor; specific buy and sell commands are not offered. As stated above, our subscribers are provided with a list of very good trading candidates, but they ultimately have to make their own decisions.
What does a membership include?
There are three main components:
1) Daily reports published after the close Mon - Thurs and a weekly report published over the weekend.
2) Trading ideas. Each setup is offered in chart form with a description of what is seen, why we like it and what the potential is. The setups are tracked and updated daily. In a typical week, there may be 20 new setups posted over the weekend and scattered throughout the week as necessary and appropriate.
3) There is also a message board, which serves as a place for subscribers to share charts and trades and chat about the market.
How can I best make use of the site?
Some subscribers trade our setups exclusively while others are just looking for ideas to complement their own. Not all setups will be appealing. Subscribers are expected to pick the ones that "fit" their trading style and then funnel them through their own criteria.
Some subscribers announce their trades on the message board while others keep quiet. In either case, an open discussion about specific setups or the market in general is welcome.
How many new setups are posted each day/week?
In a typical week, approx. 20 new setups are posted over the weekend and a couple more scattered during the week as necessary and appropriate.
Should I try to play all the setups?
No. There are far too many to play them all. Pick the ones that jive with your personality; pick the ones you like the best; ignore the others.
When is the site updated? Do you send out an email with the updates?
The site is updated Monday-Thursday after the market closes (almost always by 6:00 PM EST) and then on the weekends. Updates include adding new setups, updating comments on exiting setups, and publishing a report.
We do not send any material out via email. All updates are done on the site, so to get new and updated material you must log in and simply go to the appropriate place within the site.
What kind of trader are you? What is your trading style?
I am primarily a swing trader who likes to ride trends for a few days or a few weeks. In an ideal world I'd hold longer, but ultimately the market environment dictates my holding time.
Most of the setups are classic breakouts from time tested chart patterns. Others are quick momentum trades that last only a day or so. The setups posted are the types of setups I trade, but I don't trade all of them because there are typically too many.
No. I do not announce any of my own trades. The purpose of the site is to save you a lot of research time by narrowing the universe of stocks to a short list of candidates I feel have the best odds of making you money, not so you can follow me. If I wanted to trade your money, I'd shut the site down and open a hedge fund.
As stated above, my goal is to take the universe of tradable stocks and narrow it to a relatively small list of actionable trading candidates, not give you specific recommendations. Because of this, an exact track record is not available.
I personally do not trade all the setups, and since our members have different trading styles, and will therefore get different results from the same charts, any track record I attempted to compile would be nothing more than a good guess.
Let's say a setup is posted that suggests buying a stock when it breaks out at 30 with a target at 35 and an initial stop at 28.5. The stock then breaks out and moves up to 34 over the course of two weeks and then drops back to 31. Some subscribers focus on the short term; they would have taken profits on the first or second day. Others would have taken money off the table on the way up and then gotten stopped out close to the top. Still others would have moved their stop up very close when the stock got within a point of the target; they would have kept most of the available profits. And still others would have stubbornly let the decent profit turn into a small profit or maybe even a small loss. The point is that even though each trader was working off the same chart, different results were achieved. This is why it's not possible to offer an accurate track record. The goal is to save you a lot of time by taking the universe of tradable stocks and narrowing them to a workable number. Then it's up to you to decide which to play and how to play them.
Despite this, having been in business since 2002, the following can be said: approx. one-third of the setups breakout and do great; about one-third breakout and end up not going very far - these typically result in a small profit or small loss; and about one-third never trigger. So of the charts that trigger, about half do very well and half end up being small gains or losses. Overall that's not a bad record.
Also, you can check out our archives to get a good idea as to the types of setups posted.
What if I have a question regarding a position I'm in or a stock I'm considering playing?
Leavitt Brothers is not an investment advisory firm and cannot technically give you advice, but I'm more than happy to give you my opinion. If you have a question, it's preferred you ask on the message board so others can see the Q&A. If you're not comfortable with that, go ahead and shoot me an email.
You can cancel any time; the process is quick and painless. All you have to do is log in, click the ACCOUNT INFO link at the top-right of the page and then click the cancel button. Simple as that. You'll still have access to the site until the end of your billing cycle, but once the cycle ends, you won't be re-billed and your account will be de-activated.
All new subscriptions (those who have never been a subscriber and have never taken a free trial) come with a 2-week free trial. When you join, your credit card is not charged for the first 2 weeks. After this 2-week grace period is over (in which you can cancel any time and never be billed), your credit card is charged and your subscription officially begins. Once it begins, we do not offer refunds of any kind.
If you have any questions, email me at Jason (at) leavittbrothers.com.
Jason Leavitt
Founder, Head of Research
LeavittBrothers.com
Creator of
Jason Leavitt's Masterclass in Trading