Flags

Bearish flags are small continuation patterns that represent brief pauses within an already existing downtrend. They appear flat or trade with a slight upward slant and occur in the middle of a large drop or immediately after a stock has broken down from a substantial rally.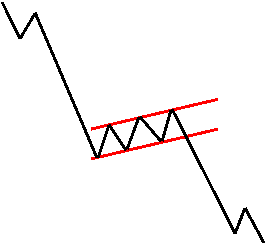 The slight short-term uptrend against the overall downtrend is very healthy and has serves two functions.
1) Weak shorts that were hoping to take profits at a lower price get scared and cover their positions. This covering is partially responsible for the short-term upward slant. Once enough have covered, the underneath support in essence is lessened.
2) The slight uptrend also indicates that the lay public is being "suckered into" the stock as they buy what they believe to be a cheap stock.
When the buying from the lay public dries up and the weak shorts finish covering, support disappears, and the stock continues it downward movement.
Whether a bearish flag pattern appears during a large fall or after breaking down from a distribution period, the expected price movement upon breakout is approximately equal to the preceding move into the flag.