Flags

Bullish flags are small continuation patterns that represent brief pauses within an already existing uptrend. They appear flat or trade with a slight downward slant and typically occur in the middle of a large rally or immediately after a stock has broken out of a basing period.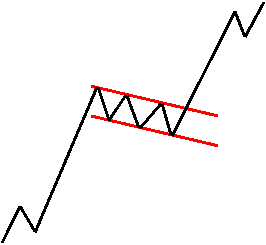 The slight short-term downtrend against the overall uptrend is very healthy as it functions to scare off weak and emotional long positions that would otherwise slow the movement after the breakout. These longs would sell at the first sign of strength. But instead, as the stock slowly trends down, these weak stockholders sell their positions. Once enough have sold, the overhead resistance in essence is cleared and the stock can continue its ride up.
Whether a bullish flag pattern appears during a large rally or after breaking out of a consolidation period, the expected price movement upon breakout is approximately equal to the preceding move into the flag.
It is important to emphasize that for a bullish flag to truly posses great potential, it must have been preceded by a significant move on heavy volume. Like pennants, bullish flags tend to be symmetrical in that the stock movement after the breakout often mirrors the move into the pattern.