Wedges

Bearish wedges are small continuation patterns that represent brief pauses within an already existing downtrend. They are characterized by converging trendlines and have a definite bearish bias. They are similar to bearish pennants except where pennants are generally flat, Wedges have a definite slant against the overall overall trend.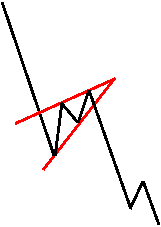 Bearish Wedges appear in the middle of a large fall or immediately after a stock has broken down from a substantial rally.
Downside breaks do not have the same volume requirement as their bullish counterparts. Like other bearish breaks, there often is a delayed volume surge.
The price action prior to a wedge formation can be used as a guide in predicting the price movement upon breakdown. If the move into the pattern was quick and full of energy, one can expect that same trading activity when support is taken out. But if the stock slowly meanders its way into the pattern, do not expect big fireworks on a breakdown.
The expected price movement upon breakout is approximately equal to the distance of the move into the pattern.