Wedges

Bullish wedges are small continuation patterns that represent brief pauses within an already existing uptrend. They are characterized by converging trendlines and have a definite bullish bias. They are similar to bullish pennants except where pennants are generally flat, wedges have a definite slant against the overall trend.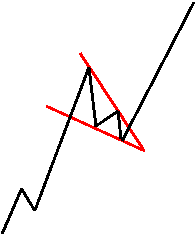 Bullish wedges typically appear in the middle of a large rally or immediately after a stock has broken out of a basing period.
Bullish breakouts should be accompanied by a significant increase in volume with appropriate stops used if this is not seen.
The price action prior to a wedge formation can be used as a guide in predicting the price movement upon breakout. So, for a bullish wedge in an uptrend to truly possess great potential, it must have been preceded by a significant move (i.e. if the movement into the pattern was quick and full of energy, the rally after the breakout most likely will be quick and full of energy).
The expected price movement upon breakout is approximately equal to the distance of the move into the pattern.